Fixed Price Design (Cheshire UK)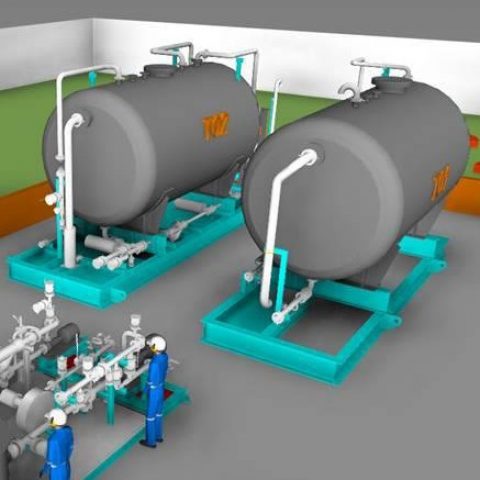 Client: Oil storage facility operator
Location: Cheshire UK
Duration: 18 months
Contract Type: Fixed Price Design

Scope
To design and build a skid mounted facility for pumping brine into caverns to remove stored crude oil from within caverns. The designed solution incorporated a brine storage skid, crude oil storage skid and a pumps and ancillary equipment skid. The design concept was to accept brine from a tanker into skid mounted intermediate tank and to pump downhole. By pumping brine in the crude oil is forced out into an intermediate storage tank. On filling of the tank the crude is then exported to a road tanker for transfer to a local refinery. A PLC control system was designed incorporating pressure and flow controls c/w odour abatement for the crude tank. All Safety Instrumented Systems tied to PLC, all powered from a generator as no local power available. A main feature of the design was for the skids to be suitable for re-locating between caverns / wellheads.

Equipment
Storage Tanks: 2 off 40m3 Horizontal, Carbon Steel
Storage Tanks. Each tank skid mounted.
2 off Centrifugal Transfer / Recirculation Pumps, and 1 off Positive Displacement Pump. All pumps skid mounted.
Generator powered facility, including Operator shelter, Control panel, Safety Showers and Earthing System
Instrumentation: Valve Routing, Level Indication, High Level Protection, Gas Monitoring

Engenda EPC was appointed as Engineering and Design Contractor, providing front end and detailed engineering design, including hazard study lead and facilitation for the project.
This included reviewing of the detailed cavern reports and incorporating the safety elements and requirements into the delivered
design. Engenda EPC provided all discipline engineering and Design, including Process, Mechanical, E&I, civil & structural.